Jan
Feb
Mar
Apr
May
Jun
Jul
Aug
Sep
Oct
Nov
Dec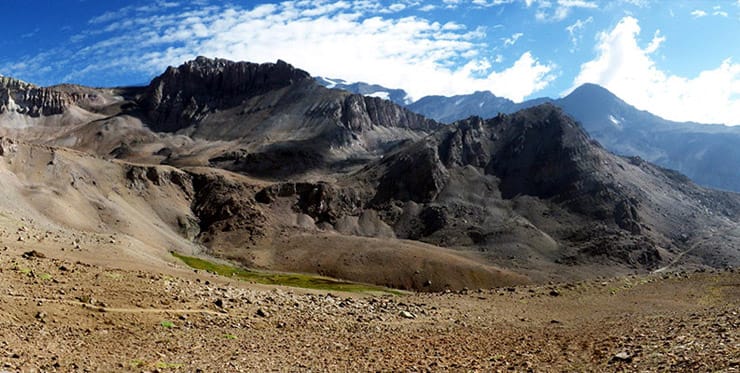 Mt Leonera
Location Santiago, Chile
Height 4950 M
Length 2 and 2.5 Days
Price USD $

Trip grade
1
2
3
4
5
6
7
8
9
10
Overview
Overview
Mount Leonera is recommended to mountaineers with little time to stay in Santiago or to those who are just learning what high altitude climbing means. This mountain is considered as a 5000 (16,500 feet), although is more likely to be a trekking experience instead of a climbing challenge by itself. No real hardships or extreme difficulties here, except for the altitude itself and some mountain passes. The panoramic view across the Andes Mountain range is just astonishing. It even allows us to gaze at the tallest summit in America, Mount Aconcagua. This is, undoubtedly, the perfect spot for those who are interested in spending just a few but pleasant days in the Central Andes.
Highlight
We developed this itinerary thinking in your aclimatization and the short time you can have in the mountains
Great views of all the biggest mountains of the Andes like, Aconcagua, Tupungato y Marmolejo
Horse driver and mules to help us to carry the mountain gear
Incredible view of the Hanging glacier of El Plomo
Expedition's schema
Program length: 2.5 days Altitude: 4950 m / 16.240 ft
Location: Santiago, Chile
Slope: 2000m from Franciscano lagoon
Season: All Year
Difficulty: This is not a technical track, but it is physically demanding
First ascent: 1935 by Erwin Gehrung y Heinz Koch
Expedition team size: max 9 climbers + guides
Dates and Prices
Dates and Prices
Open Expedition
Private Service: You choose the best convenience date for you and your group. Price depending on number of people booked.
Itinerary
Full Itinerary per day
Day 1: Santiago / Bike-park la Parva
Day 2: Bike-park la Parva / Cancha de carrera (BC)
Day 3: BC / Climb Leonera / Santiago
Includes
Includes
Our mountain expeditions include the following services:
Mountain guide (Spanish / English )
Private transportation to climbing areas (4WD or Mini Van)
Mountain tents (each one is for 2 persons)
Dinner tent (with table and chairs) more than 3 climbers
Cooking kit
foam mattress
All meals within the expedition (Breakfast, box lunch, diner)
Professional first aids kit
Heart rate monitor and oximeter
VHF Radio
Satellite radio
All group equipment; rope, ice-screw, compass, stove, GPS, etc.
Our services don't include
Personal mountain equipment
Hotel nigh
Airport transfer
Traveling and rescue insurances. We strongly recommend you to get them
Any other service which wasn't mentioned above. (restaurant meals, beverages, tips, laundry, etc.)
International and national flights and boarding fees
More Info
Additional information:
1 guide every 3 climbers
Satellite phone (fees by minute usage / U$ 6 p/m )
U$ 100 per person if you want single tent, please let us know
Weather can get as low as -20ºC (-4ºF) in the area
High Mountain Expedition is NOT responsible for:
Personal services (laundry, snacks, beverages, tips, etc.)
Personal mountain equipment
Expenses in case of rescue or early departure from the expedition.
Delays caused by your flight or any transportation issue which you are responsible for.
Weather changes which may affect the expedition.
Gear List
Gear List
Upper body parts
Sun hat
Wool hat
Balaclava / ski mask
2 long sleeve polypropylene shirts (or similar)
1 fleece windstopper (or similar)
1 waterproof jacket (Gore Tex, Triple Point, or similar)
Down feather parka with hood
Polypropylene gloves
Waterproof gloves
Down body parts
1 polypropylene long underwear (or similar)
1 trekking pants
windproof pants (Gore Tex, Triple Point, or similar)
2 pairs thin socks (Liners)
2 pairs of thermal socks
Gaiters
Mountain boots
Personal equipment
Ice axe (70 cm or more), winter only
Crampones , Winter only
Trekking stick (telescopic)
Sleeping bag (Tº -10ºC)
Inflatable mattress
Expedition backpack o duffel (80 liters aprox.)
Daypack (40 liters aprox.)
Headlamp (and extra batteries)
Sunglasses (category 3 or 4)
Goggles
2 bottles of water (1 liter each)
Thermos flask (1 liter)
Sunscreen (SPF 40)
Lips sunscreen (SPF 30) (Blistex)
Whistle, emergency mirror, and pocket knife
Toiletries
Digital camera, a book, mp3, Binoculars. [optional]
Personal repair kit
Photos