Ene
Feb
Mar
Abr
May
Jun
Jul
Ago
Sep
Oct
Nov
Dic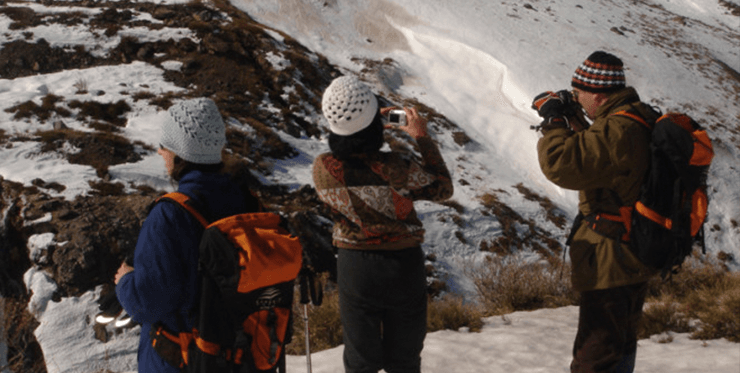 ,
Snow Shoes Trek
NM El Morado / San Francisco Glacier
Ubicación Santiago, Chile
Altura 2500 M
Duración 1 Día
Precio USD $ 120

Dificultad
1
2
3
4
5
6
7
8
9
10
Dates and Prices
Dates & Prices
Regular services: USD 120 p/p You shared this trip with more people.
Private Service: You choose the best convenience date for you and your group, price depending on number of people booked.
Itinerary
Itinerary and service (per day)
We will go to San José de Maipo, where we will make our first stop to see the town. After this break we will continue on our journey to Baños Morales where we will begin our trek, which immerses us in its great beauty, at the heart of the Andes Mountain Range. Here we can observe the mineral water tributaries, a lagoon made by the melted portions of the San Francisco Glacier. We can also observe the park's fauna, rich in bird species, particularly the Giant Hummigbrid, the Sierra Finch and the Austral Thrush. Mount El Morado is the tallest mountain at 5,060 m. Above sea level(masl), and is what gives this wildlife reserve its name. The itinerary described above is a guideline. Be aware that some changes might be done during the hike due to weather issues.If the hike is compromised due to a weather condition like snow storms with intense cold, the chief-guide has the obligation to modify or even abort the whole hike program if needed.
Max altitude: 2500masl
Lodging: No
Meals: Box-lunch.
Transport: 4WD or Mini Van
Scheme: Visit San José de Maipo, Trekking El Morado Glacier.
More Info
Includes & Not Includes – More Info
Our mountain expeditions includes the following services:
Trekking guide (spanish / english)
Private transportation (4WD or Mini Van)
Snow-shoes (winter)
Trekking poles
Boxlunch
Professional first aids kit
ll group equipment; rope, compass, GPS, etc.
Our services don't include
Personal mountain equipment
Traveling and rescue insurances. We strongly recommend you to get them
Any other service which wasn't mentioned above. (restaurant meals, beverages, tips, laundry, etc.)
International and national flights and boarding fees
Hotel night in Santiago
Additional information:
High Mountain Expedition is NOT responsible for:
Personal services (laundry, snacks, beverages, tips, etc.)
Personal mountain equipment
Expenses in case of rescue or early departure from the trek.
Delays caused by your flight or any transportation issue which you are responsible for.
Weather changes which may affect the expedition.
Gear List
Clothing and proper equipment
we strongly recommend to all the expedition members to have the mountain equipment described below.
Upper body parts
Sun hat
Wool hat
Polypropylene shirts or similar
Fleece windstopper or similar
Waterproof jacket
Gloves
Down body parts
trekking pants
waterproof pants
pairs thin socks (Liners)
pair of thermal socks
Trekking boots
Personal equipment
Expedition Backpack (80 lts.aprox.)
Daypack (40 liters aprox.)
Sleeping bag
Foam Matress
Plate, spon, fork
Headlamp (and extra batteries)
Sunglasses
Sunscreen (SPF 40)
Lips sunscreen (SPF 30) (Blistex)
Toiletries
Digital camera, Binoculars. (optional)
Salidas Fijas
June
| | |
| --- | --- |
| Tocllaraju | 09/06/2019 |
| Quitaraju | 13/06/2019 |
| Alpamayo | 17/06/2019 |
July
| | |
| --- | --- |
| Llullaillaco | 14/07/2019 |
| Llullaillaco | 28/07/2019 |