Jan
Feb
Mar
Apr
May
Jun
Jul
Aug
Sep
Oct
Nov
Dec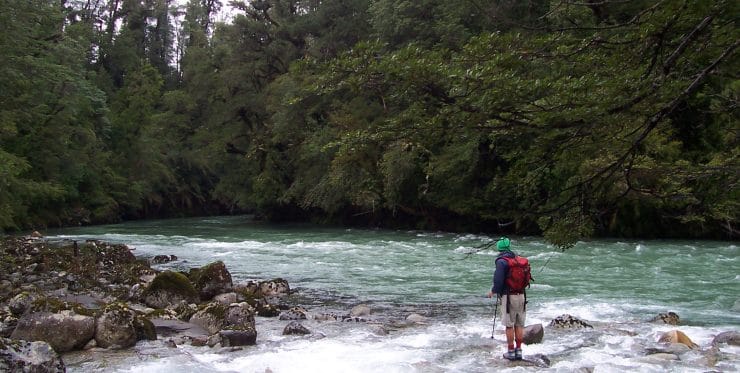 ,
Lake District Trek
District Lake Trek in North Patagonia, Los Lagos, Chile. It is developed between rainforest, volcanoes and lakes. We will enjoy splendid views and moments with the local community, hot springs and patagonian barbecue.
Location Los Lagos
Height --
Length 7 Days
Price USD $ 0

Trip grade
1
2
3
4
5
6
7
8
9
10
Dates and Prices
Dates and Prices
Private Service: You choose the best convenience date for you and your group. Price depending on number of people booked.
Itinerary
Full Itinerary per day
Day 1: Hotel or airport/ Ralún / Cayetue (IN)
Cayetue / Valle esperanza / Bandurrias
Day 3: Bandurrias / Las Juntas / Hot springs
Day 4: Las Juntas / Piedra del Buitre / Las Juntas
Day 5: Las Juntas / Bandurrias
Day 6: Bandurrias / Blanco River / Petrohué / Puerto Varas
Day 7: Hotel / Airoport / end of service (out)
Includes
Includes
Our Lake District Trek expeditions include the following services:
Mountain guide (Spanish/ English)
Assistant and chef (more than 3 pax)
Mules
Navigation on Todos Los Santos Lake
1 hotel night in Puerto Varas
Private transport (days 1, 6 and 7)
Mountain tents (1 tent per 2 climbers)
Dinning tent with tables and chairs (more than 3 pax)
Camping foam mat
Full cooking equipment
All meals within the expedition (Breakfast, box lunch, dinner)
Professional First Aid Kit
VHF Radio
Satellite Radio
All the team equipment; stoves, GPS, etc.
Our services don't include
Personal equipment
Traveling and rescue insurances. We strongly recommend you to get them.
Any other service which wasn't mentioned above. (restaurant meals, beverages , tips, etc.)
International and national flights and boarding fees.
More Info
More Info
Additional information:
Satellite phone (fees by minute usage/ USD 6 p/m)
USD 100 per climber if you want private tent (Please let us know)
We recommend travelling with smalls bills
It's a rainy area and river crossing can be difficult
High Mountain Expedition is NOT responsible for:
Personal services (laundry, snacks, beverages, tips, restaurant meals, etc.)
Personal mountain equipment
Expenses in case of rescue or early departure from the expedition.
Delays caused by your flight or any transportation issue which you are responsible for.
Weather changes which may affect the expedition.
Restaurant meals
Gear List
Gear List
To avoid any injury to our body, we strongly recommend to all the expedition members to have the mountain equipment described below. Each of these implements will support for trekking and days which can be very rainy.
Upper body parts
Sun hat
Wool hat
2 long sleeve polypropylene shirts (or similar)
Fleece windstopper (or similar)
Waterproof jacket (Gore Tex, Triple Point, or similar)
Down feather parka with hood
Polypropylene gloves
Waterproof gloves
Down body parts
Polypropylene long underwear (or similar)
Trekking pants
Windproof pants (Gore Tex, Triple Point, or similar)
2 pairs thin socks (Liners)
2 pairs of thermal socks
Leg warmers
Trekking boots
Sandals
Personal equipment
Trekking stick (telescopic)
Sleeping bag (synthetic -5ºC)
Inflatable mattress or foam
Expedition backpack or duffel (80 liters aprox.)
Daypack (40 liters aprox.)
Headlamp (and extra batteries)
Sunglasses
Bottle of water (1 liter)
Thermo flask (1 liter)
Sunscreen (SPF 30)
Lips sunscreen (SPF 30) (Blistex)
Whistle, emergency mirror, and pocket knife
Toiletries
Digital camera, a book, mp3, Binoculars. [optional]
Personal repair kit.
Fixed Departures
June
| | |
| --- | --- |
| Tocllaraju | 09/06/2019 |
| Quitaraju | 13/06/2019 |
| Alpamayo | 17/06/2019 |
July
| | |
| --- | --- |
| Llullaillaco | 14/07/2019 |
| Llullaillaco | 28/07/2019 |