Jan
Feb
Mar
Apr
May
Jun
Jul
Aug
Sep
Oct
Nov
Dec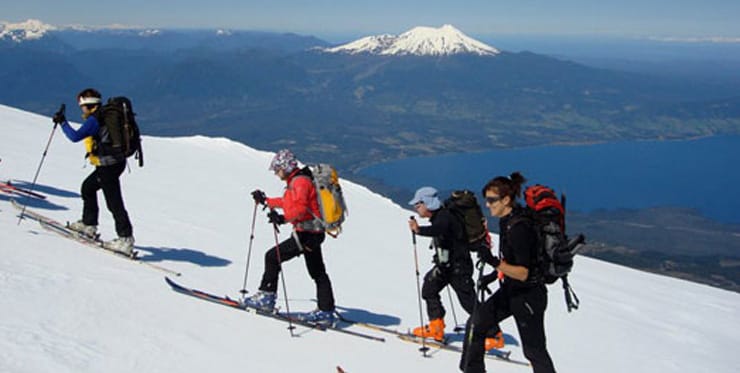 ,
South Chilean Volcanoes
Location Araucania, Chile
Height 3600 M
Length 8 Days
Price USD $ 2300

Trip grade
1
2
3
4
5
6
7
8
9
10
Dates and Prices
July to October: 2300usd per climber
Payment
Transfer to our bank account
Account in dollars
Company name: Asesorias en Montaña Ltda.
Rut (company ID): 76.290.863-8
Company Address: Av Salvador 844 Providencia, Santiago Chile
Bank name: Banco de Crédito e Inversions (BCI)
Bank address: Miguel Cruchaga 920, piso 2, Santiago Chile
Bank number account: 18534929
SWIFT code: CREDCLRM
Reservation (non-refundable)
With a U$500 deposit per climber, a reservation will be automatically generated. We send you a paypal link.
Balance
Must be made 30 days before expedition departure time. This must be paid with bank transfer.
Cancellation Policies
Cancellations made between 29 to 16 days prior the expedition will be refunded up to a 60% of the deposited money, or, if you prefer, you can keep the reservation up to one year for a new scheduled expedition of the same value.
Cancellations made 15 days (or less) before the expedition WILL NOT be refunded.
This cancellation policy covers any and all reasons for canceling participation in the expedition, including personal issues, accidents, illness, acts of nature, bad weather, etc.
Note: please ask your normal travel company about "Trip Cancellation Insurance".
Itinerary
Itinerary and service (per day)
Day 1: Santiago / Chillan
Day 2: Chillan volcano ascent
Day 3: Antuco Volcano
Day 4: Lonquimay Volcano
Day 5: Transfer Lonquimay to LLaima
Day 6: LLaima Volcano
Day 7: Villarica Volcano
Day 8: Drive back to Santiago End of our services (OUT)
The itinerary described above is a guideline. Be aware that some changes might be done during the expedition due to weather issues. If the expedition is compromised due to a weather condition like snow storms with intense cold, or to an acclimatization difficulty from one of the members of the expedition, the chief-guide has the obligation to modify or even abort the whole expedition program if needed.
The above is for you to be aware that if something goes wrong you need to understand and (fully) cooperate with the guide, since any wrong or "too-late" decision might be fatal.
More Info
More Info
Additional information:
Satellite phone (fees by minute usage / U$ 6 p/m )
Weather can get as low as -25ºC (-13ºF) in the area
Includes & Not Includes
Our service include the following services:
1 hostel night in Santiago
1 refuge night in Chillan
1 refuge night in Antuco
2 refuge night in Lonquimay area
1 refuge night in Llaima area
2 hostel night in Pucón
Ski touring guide (Spanish / English )
Private transportation to ski areas (4WD or Mini Van)
Entrance fee to Malalcahuello national park
Cooking kit
All meals within the expedition, Breakfast, box lunch, diner (see itinerary )
Professional first aids kit
Heart rate monitor and oximeter
VHF Radio
Satellite radio
All group equipment; rope, ice-screw, compass, stove, GPS, etc.
Our services don't include
Diners in Santiago, Pucón and Puerto Varas
Personal mountain equipment
Backcountry safety gear, transceiver (A.R.V.A) shovel, probes.
Traveling and rescue insurances. We strongly recommend you to get them
Any other service which wasn't mentioned above. (restaurant meals,
beverages, tips, laundry, etc.)
International and national flights and boarding fees
High Mountain Expedition is NOT responsible for:
Personal services (laundry, snacks, beverages, tips, etc.)
Personal mountain equipment
Expenses in case of rescue or early departure from the expedition.
Delays caused by your flight or any transportation issue which you are responsible for.
Weather changes which may affect the expedition.
Recommendations:
Nourishment: This is another crucial point to consider when preparing yourself for the expedition. Your feeding routine is the cornerstone to your training exercises and the expedition itself. That's why we strongly recommend you to eat food rich in carbohydrates, proteins, fibers and minerals. Remember before and after your training exercises you must hydrate yourself.
Passport: 6 month left before expiration date and enough blank spaces for customs procedures.
Vaccines: No vaccine is needed to enter Chile.
Water: The water is good. Still, we recommend you to drink bottled-water during your first days in Chile so your body gets used to the water here.
Money exchange: If you need to trade dollars into Chilean or Argentinean pesos, do it in official places.
Language: Chile's and Argentina's official language is Spanish. On regular basis, it will be hard for you to communicate with ordinary people. That's why we recommend you to get a pocket-dictionary. Nevertheless, most people working in tourism speak fluent English.
Electrical grid: 220[v] – 50[Hz].  You'll easily find electrical transformers in Santiago or any large city, but if you have the time, get one in your country.
Gear List
Clothing and proper equipment
In order to avoid any injury we strongly recommend to all the expedition members to have the mountain equipment described below. Each piece of the equipment will help us on the summit day, which may be terribly cold (even -20ºC /-4ºF). The proper equipment is crucial to achieve our goal.
Upper body parts
Sun hat
Wool hat
ski mask
3 or 4 long sleeve polypropylene shirts (or similar)
fleece windstopper (or similar)
1 waterproof jacket (Gore Tex, Triple Point, or similar)
Down feather parka with hood
Waterproof gloves
Down body parts
2 polypropylene long underwear (or similar)
1 trekking pants
1 windproof pants (Gore Tex, Triple Point, or similar)
2 pairs thin socks (Liners)
4 pairs of thermal socks for ski
Gaiters
Trekking boots
Ski boots
Personal equipment
Skis
Ski Brakes
Ski crampons
Ice axe – light for ski
Boot Crampones
Climbing harness
2 carabineers
Avalanche transceiver
Shovel
Probe
Bag pack from 35 to 60 lts.
2 prusik cord
flatable mattress
Expedition backpack (80 liters aprox.)
Daypack (40 liters aprox.)
Headlamp (and extra batteries)
Sunglasses (category 3 or 4)
Goggles
2 bottles of water (1 liter each)
Thermos flask (1 liter)
Sunscreen (SPF 50)
Lips sunscreen (SPF 30) (Blistex)
Whistle, emergency mirror, and pocket knife
Toiletries
Digital camera, a book, mp3, Binoculars. [optional]
Personal repair kit
Photos
Fixed Departures
June
| | |
| --- | --- |
| Tocllaraju | 09/06/2019 |
| Quitaraju | 13/06/2019 |
| Alpamayo | 17/06/2019 |
July
| | |
| --- | --- |
| Llullaillaco | 14/07/2019 |
| Llullaillaco | 28/07/2019 |