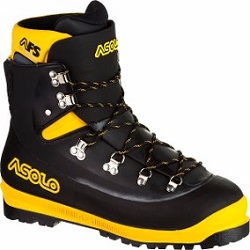 Bota Alta Montaña Asolo AFS 8000
$ 5.000 CLP
Special Price: Descuentos: 10% : 5 a 9 días / 15% :  10 a 20 días / 20% : 21 a 30 días
| | |
| --- | --- |
| Model: | Asolo AFS 8000 |
| Brand: | |
| Color: | negro |
| Size: | Disponible en 2 tallas: 7 US, 38 EU - 10 US, 42 EU |
| Weight: | 2800 g (par) |
| Guarantee: | 170000 |
---
Product Description
Designed to face ascents to summits above 5,000 meters with temperatures below -30º.
Characteristics:
The Vibram® sole is extremely rigid to guarantee maximum safety in winter and ice climbing.
One of the most important parts of a shoe or boot for the step and to do the trekking is the sole. One that a good outsole has three main characteristics: the sole design, the shape of the tacos, and that the sole is fabricated.
The vibram sole has been on the market for decades, its main characteristic is that it is a non-skid sole especially suitable for walking on any kind of terrain including ice and snow, where a good grip and response is necessary to prevent falls and slips. The components of this sole make that in both standing and in movement the sole has an exceptional grip, that sea non-slip and therefore guarantees an excellent grip to walk at a normal speed on land, mountain, on stones ……. As well as good stability when conditions change. It is also suitable for indoor use and can be used both on the mountain and in the city.
The seven-layer removable interior loot offers waterproof, warmth and comfort.
Its dimensions are exceptionally compact, always becoming an aid, not an impediment.
Compatible with automatic crampons, semi or straps.
Height of the boot: 21.5 cm.
Injected Pebax® housing.
3M Thinsulate® filler for maximum heat and Mylar® for added insulation