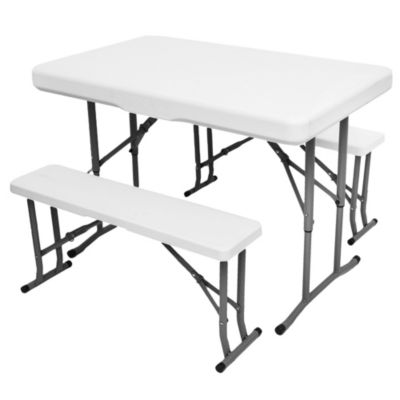 Table set + folding stool 3 pieces Klimber
$ 3.000 CLP
Special Price: por mas de 5 días $2700, por mas de 10 días $2400. En Rental High Mountain Experience.
| | |
| --- | --- |
| Model: | |
| Brand: | |
| Color: | crema |
| Size: | 104 x 64 x 73 cm (mesa), 84 x 23 x 40 cm (sillas) |
| Weight: | 14.7 kg |
| Guarantee: | $45000 |
---
Product Description
Table Set + Klimber Folding Benches
It is a set that you can use outdoors. Practical and highly useful was designed for indoor and outdoor protected, so it can be used in camping and seaside. It is the ideal solution, because it is transformed into a unique object easy to move from where you stay to the chosen place on the beach. The equipment is totally collapsible and easy to clean.
Characteristics of the Table Set with Klimber Folding Benches: Thanks to its format, when the table folds its legs, it has two banquets with metallic legs of my style inside. The table legs and stools are strong and sturdy, and the surface of the articles is made of high quality and lightweight plastic.
Use this set when the whole family has gathered at home and you need additional space. Take advantage of the game of table and stools and stop taking so many objects from one side to another. Relax and enjoy, compress your stools inside your table and take them without effort.